Miami Colour Pop Collection.<
Doing the dishes can be an enjoyable experience! Seriously. Simply switching to colourful taps will spark joy every time you do something as mundane as washing your hands.
Banishing the sea of chrome.
Other colours are available! Chrome taps are a safe choice – one we often make without a second thought. We dare you to be different. One of this year's hottest trends is coloured taps, so inject a bit of fun into your kitchen with these remarkable statement fittings.
Miami vibes
So you're convinced. You love the Miami vibes but what is the essence of the Art Deco Miami trend and how can you capture the feeling in your home?
There are hints of Americana and nostalgia with this look. Think Miami Vice meets Grand Budapest Hotel and you'll be on the right track. And let's be honest, everyone needs a bit of Wes Anderson's style in their lives!
Art Deco
Art Deco interiors have been trending for a while now. It's a style influenced by architecture, fashion and furniture from the early 20th century, an era renowned for glamour, opulence and elegance.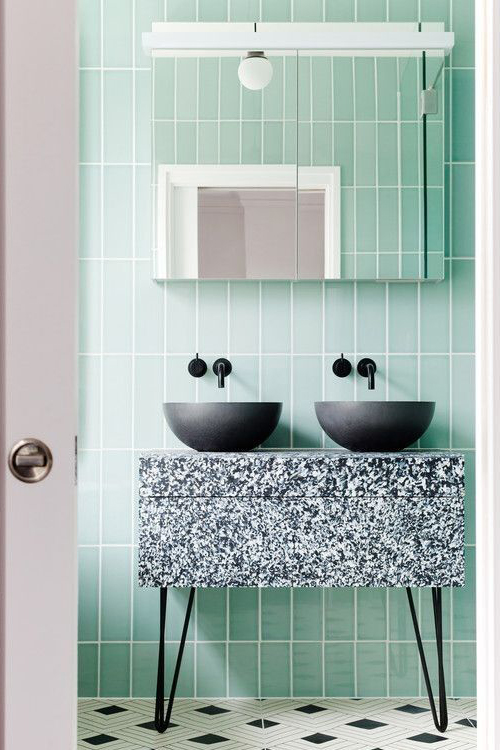 This year swaps the rich colour palette for a more 50's inspired scheme. Pastel blues, greens, pinks and yellows punctuated with crisp white and a touch of gold are the mainstays of achieving the look.
If you're looking to incorporate this trend into your home, stick to pastel colours alongside sculptural lines, strong geometric shapes and curves.
Mint and pink – what's not to love?
Neo Mint is set to be huge this year. Heralding the start of a new decade, this colour is fresh and evokes optimism. It follows then that a minty green tap is just what you need when facing a mountain of dirty dishes! We love this fresh colour so much that our luxury paint range includes two shades of this inspiring green; Make a Mint and Sea Foam Party.
Everyone loves a touch of pink. Subtle accents of this rosy shade add instant feminity, be that with a flash of fuschia lipstick, blush nails or even a Miami pink tap!
Did you know that pink is symbolic of love, inner peace, harmony and romance? Too much of a good thing could become sugary sweet, so pastel pink accents are the way to go. A pink tap will pop against a crisp white wall and show off your playful side. Swap your kitchen handles for some stylish brass handles to keep your space looking sophisticated and not too 'matchy-matchy'.
Both of these tints work beautifully alongside all sorts of kitchen and bathroom surfaces; from concrete to marble and granite to wood. So ditch the ubiquitous chrome taps, and inject some colour into your life. But be quick, these colourful taps are limited edition so won't be around forever.